IP CAMS & DVR Systems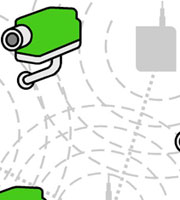 We are providing different solutions for the monitoring purpose. Such as IP CAMS, DVR, PSTN or GSM Modulator.

Be anywhere in the world and get the live video of your factory, office or staff since an IP Cam works over data network bringing in the advantage over traditional cam.

Furthermore, you could use the existing data network or go wireless. For real-time monitoring, PIOTEC brings the solution over handheld devices as well e.g. O2, I-mate, JAM & any other PC Phone.